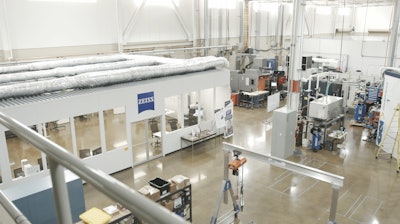 Carl Zeiss Industrial Metrology
Carl Zeiss Industrial Metrology has entered a five-year cooperative research and development agreement (CRADA) with Oak Ridge National Laboratory (ORNL) to gain a deeper understanding of additive manufacturing (AM) processes and materials using ZEISS' 3D ManuFACT solution, a correlative multi-scale multi-modal workflow utilizing advanced characterization tools. 
Under the CRADA, ZEISS and ORNL will work together to develop and implement a comprehensive powder to part characterization methodology for the progression of AM at the Department of Energy's Manufacturing Demonstration Facility at ORNL in Knoxville, TN and through support from the Energy Efficiency and Renewable Energy's Advanced Manufacturing Office. Fast recipe development combined with improved mass production yield and methodology for quality certification of AM parts, existing and new materials and processes, will be defined and demonstrated. 
Dr. Marcin Bauza, Head of ZEISS Additive Manufacturing Process and Control & Vice President New Technology & Innovation said, "We are honored to work with Oak Ridge National Laboratory to overcome the barriers of transforming powder bed AM technologies into mainstream manufacturing technology. AM has several benefits and we at ZEISS together with ORNL want to ensure that a broad range of users can reliably leverage these benefits in their products." 
"We look forward to working with ZEISS to further develop solutions for better characterization and quality control of additively manufactured parts," said Moe Khaleel, associate laboratory director for Energy and Environmental Sciences at ORNL. "ORNL brings its unique expertise and capabilities in materials science, supercomputing, data analytics, neutron sciences and powder bed systems at the MDF—the only user facility of its kind in the nation capable of conducting this type of research. We anticipate our collaboration to yield rapid results for the manufacturing sector." 
The CRADA will further develop the ZEISS 3D ManuFACT solution for the additive manufacturing industry. This solution is a holistic process of integrated multi-length scale characterization tools for improving the yield of AM powder bed systems through quality inspection and correlation. The ZEISS technologies used in this solution range from microscopes to coordinate measuring machines (CMM) to X-ray systems. The ZEISS 3D ManuFACT solution will be utilized to demonstrate the ability to rapidly develop and deploy a new alloy, for example, as well as to rapidly create new AM process recipes for mass manufacturing of components. 
The long-term goal of the CRADA will be to integrate on-site process monitoring with the ZEISS 3D ManuFACT solution to certify the powder bed AM process. By using a systematic holistic approach, the same methodology will be able to develop new AM materials faster.