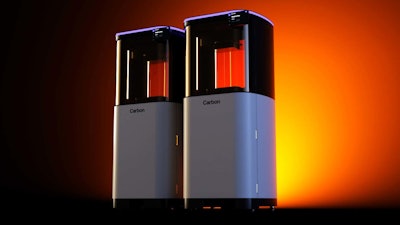 Carbon
Carbon revealed the newest 3D printers in its M series, the M3 and the M3 Max, in an online announcement on January 26.
Carbon is the developer of Digital Light Synthesis (DLS) 3D printing technology, which it describes as, "An industrial 3D printing process that creates functional, end-use parts with mechanically isotropic properties and smooth surface finishes." With DLS, users are able to choose from rigid and flexible polyurethane materials to meet application needs for high impact-resistance components.
The M3 brings a number of developments to create a simpler 3D-printing experience. Features include force feedback technology, improved heat management and built-in IR-based resin heating.
A closed loop control system has sensors in the platform that measure forces and temperature on a print. The heat management allows for up to 2.5-times higher throughput.
"Essentially, this means the sensors in the build platform are measuring the forces on the print and adjusting the print plan in real time to reduce forces on parts throughout the print," senior hardware development manager Mike Murillo sad.
With a broader design space, the printing platform allows for a new level of repeatability. The production repeatability accuracy for the M3 is up to 37 micrometers. The M3 produces also prints with a more consistent surface finish with a surface reduction of 1.4 micron.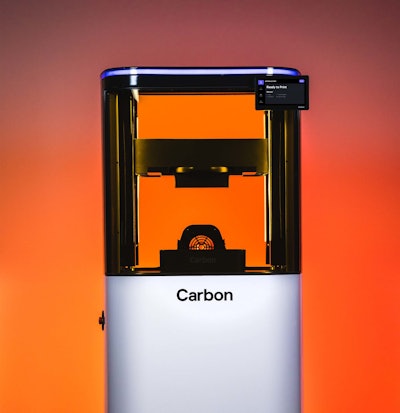 M3 Max's accuracy has not been released yet. However, it possesses a true 4K light engine that enables double the build area with the same pixel size and density.
The M3 takes the shape of a square and a few physical changes from its M1 and M2 predecessors are a touchscreen, LED status-lighting and sounds, an amber-colored door that opens vertically downward and a 360-degree view of parts.
"We incorporated a new, fully interactive touchscreen with more options available at the printer so the operators could avoid bringing the laptop into the lab," said product manager Hunter Van Adelsberg.
M3's build volume is 7.4 x 4.6 x 12.8 inches and the M3 Max is 12.1 x 6.4 x 12.8 inches. The XY resolution is 75 micrometers and the Z resolution is 25, 50 or 100 micrometers for both.
Both the M3 and M3 Max have USB and ethernet connectivity
An engineer is not required on site for installation which can take as long as one to two hours.
The process to upgrade was described as very competitive and subscribers were advised to reach out to its Carbon representatives to recommend the next step. A price for the printers has not been released, but Carbon's website states Carbon 3D printers begin at $25,000 per year and come with a variety of packages.
The M3 is actively shipping now and volumes will continue to pick up in February. The M3 Max will begin shipping to customers in late 2022.