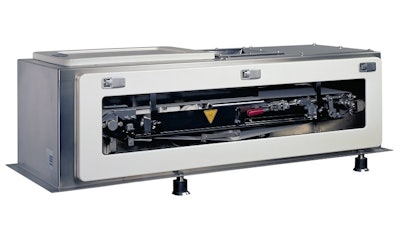 The Coperion K-Tron (Salina, KS) Smart Weigh Belt Feeder (SWB) can be used for gravimetric batch feeding or for continuous metering of bulk material flow. The compact and highly accurate design makes it ideal for metering of food products into packaging lines, such as individual ingredients for snack mixes, finished food products prior to pouching lines, and metering of sensitive or friable food ingredients to blenders. Specifically:
The SWB features a primary weigh bridge and offers an optional secondary weigh bridge which both utilize Coperion K-Tron's patented SFT III weighing technology with vibration and temperature immunity, zero deflection and high resolution.

The innovative control system provides continuous online auto tare, reducing maintenance, frequency of calibration, and improving long term stability.

The SWB is available in a variety of belt widths which can handle high volumes of flow for products with a variety of flow characteristics.

The SWB-300 and SWB-600 are supplied as open or closed frame and are offered

with a stainless-steel enclosure and an easy clean design, with a removable conveyor assembly, allowing easy access for maintenance and belt removal.