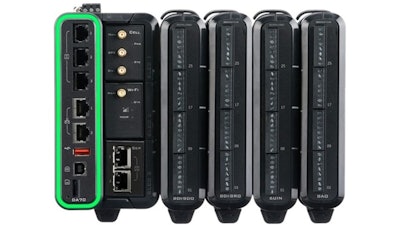 Red Lion (York, PA) announces it has received American Bureau of Shipping (ABS) certification for its entire FlexEdge Intelligent Edge Automation Platform including controllers, sleds and modules. The ABS certification makes FlexEdge the ideal industrial automation solution for marine and offshore applications, including vessel water management and offshore oil rigs.
For more than 150 years, ABS classification services have been at the forefront of maritime and offshore safety, as well as the most advanced technological research. ABS delivers services and solutions globally, focusing on the safe and practical application of advanced technologies and digital solutions for marine and offshore assets. The ABS certification streamlines the acceptance of equipment and components used in these applications.
As industries around the world transform their facilities and remote assets into digitally driven operations, the need to power performance through real-time data access, visualization and remote access is crucial. Red Lion's FlexEdge Intelligent Edge Automation Platform is an all-in-one solution that enables industrial enterprises to realize their automation goals and unlock the power of their data.
Now with ABS certification, industries can be even more confident that their secure and high-performing FlexEdge platform meets necessary marine and offshore safety requirements.