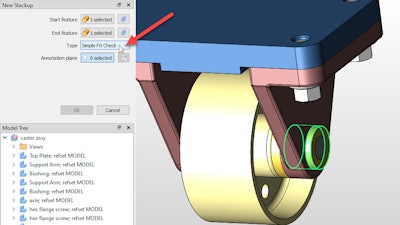 Sigmetrix
Sigmetrix announced the release of EZtol v2.3, a new version with enhancements that make it easier to create 1-D tolerance stackup analyses for NX, CATIA and SOLIDWORKS models.
A new workflow allows users to check the fit between two features of size (pin/hole, slab/slot, pin/slot) with a few clicks. A new command called Show Stackup will temporarily reposition components to the locations defined by their mating features. When defining a new stackup, if the model has an active section view that is parallel to the stackup direction, it now possible to place the stackup dimensions on the section view plane. Hiding and showing of supplemental geometry items (planes, axes, curves, points, coordinate systems) is more intuitive. Actions such as creating stackups and showing or hiding of model items are faster.
EZtol is a 1-Dimensional tolerance stackup analysis program designed to assist with understanding the impact on assembly-level requirements of the accumulation of part-level dimensional variation and part-to-part assembly variation. Interested users, including those who may have tested earlier versions of EZtol, may download a 7-day free trial from https://info.sigmetrix.com/e/146541/2022-04-05/2vm9c9/316248713?h=GVmznUqAZYWicIZYO1x6kBoH7t8Uo0h0tCub__eQ9aw.