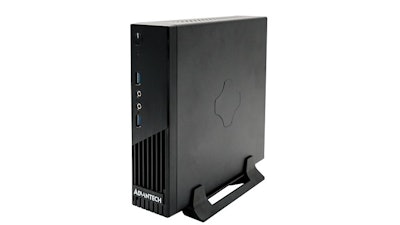 Advantech (Irvine, CA) now offers the scalable Valor Mini Workstation that offers a seven-year minimum lifespan. The US-developed and manufactured compact industrial PC provides continuity in complex processes by eliminating the need for frequent recertification, reintegration and replacement common in typical commercial workstations. It is ideal to handle essential computing needs in applications that do not need I/O expansion cards or external storage.
The powerful Valor Mini is built on a mini ITX motherboard that supports Intel 10th Gen Core i processors with the intelligent H420E chipset. Windows IoT is integrated as standard to provide a highly secure system with more options to create an out-of-the-box experience for industrial customers, regardless of the end application.
The flexible workstation comes with up to 64 GB DDR4 2933 RAM as well as an onboard M.2 2280 M-key slot for high-speed NVMe SSD. For low-cost storage, an optional 2.5" SATA HDD/SSD can be included, and the system easily connects to a range of peripherals, such as a mouse, keyboard, LCD and printers. Users can also request custom badging and BIOS customization. Advantech prioritizes best-in-class revision control to ensure the exact same product is delivered order after order.
Measuring just 2.2" x 7.9" x 7.9" (W x D x H), the Valor Mini Workstation is designed specifically for compact environments.