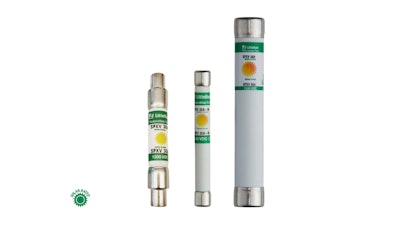 Littelfuse
Littelfuse announces the expansion of its SPXI series in-line and SPXV series string solar fuses with 25 to 32 amperage models in a compact 10 mm x 85 mm case size.
Used in photovoltaic installations, these 1500 V DC fuses protect PV systems from overloads and short circuits to minimize damage to solar panels. The compact case size offers design flexibility when space is at a premium.
Other key benefits of the solar in-line and string fuses:
Product label features a QR code offering access to part numbers, volts, SAP variables, programming terms, and date codes in real time

SPXI and SPXV solar fuses meet UL 248-19 and IEC 60269-6 photovoltaic fuse standard requirements

SPXI solar fuses can be electrically insulated by overmolding or heat-shrinking to streamline the set-up process
SPXV fuses are compatible with existing Littelfuse touch-safe fuse holders, which have been rerated up to 32 A
For more product information visit http://littelfuse.com/solar.