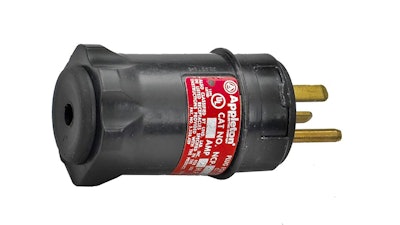 Emerson
Emerson announces its new Appleton U-Line Interchanger 15 and 20 Amp plugs, engineered for service in hazardous, wet and corrosive locations.

The plugs are ideal for the delivery of safe, reliable power to lighting systems, power tools, welding equipment and compressors, among others, especially during plant turnarounds and other maintenance applications.


Offered in a wide range of hazardous location ratings and certifications, including those for Class I, Div. 1 and 2 areas where ignitable vapors are present.

NEMA Type 4 watertight rating to provide a safe outdoor power solution for construction sites, drilling rigs, wastewater treatment centers and petrochemical refineries.

Larger terminals make the plugs faster to wire and access, and standard-sized screws are easier to tighten and don't require unique tools.


For more information, visit https://www.emerson.com/en-us/catalog/appleton-ecp-ncp.