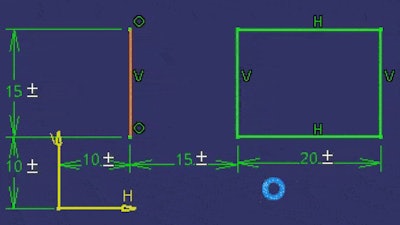 In today's tip, we're back in the Sketcher workbench.
The plan is to eventually create a Shaft, so I've started drawing the sketch in the clip below. The only issue is that the line I have drawn needs to be an Axis instead of a standard line. Now, this is not a complicated sketch, so I could delete the line, draw an Axis, then rebuild the constraints that connect to it, but that seems unnecessary.
Of course, there's an easier way.
Simple version: Select the line. Click Axis. CATIA will inquire if you'd like to convert this current line to an Axis. A simple click of the "Yes" button and we've now got an axis line instead of a standard one. The revolve feature will be ready to go.
Still looking for more Sketcher tips? Join us for an in-depth look at Sketcher in the CATIA V5: Introduction to Modeling class.
Scott Henderson is a technical training engineer at Rand 3D.