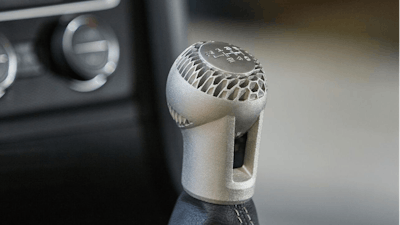 HP
HP on Monday unveiled a new 3D printer that company officials touted as the most advanced system to date for printing metal parts at a production scale.
The HP Metal Jet, launched at the outset of the International Manufacturing Technology Show in Chicago, offers 50 times more productivity than rival printing methods at a significantly lower cost, the company said.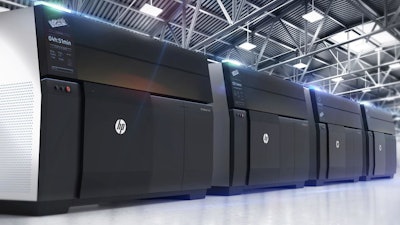 HP executives argued the new printer, like its predecessor developed for mass-produced printed plastics, could transform manufacturing — especially for metal-dependent sectors such as the automotive and medical device industries.
"HP's new Metal Jet 3D printing platform unlocks the speed, quality and economics to enable our customers to completely rethink the way they design, manufacture and deliver new solutions in the digital age," said HP Inc. President and CEO Dion Weisler.
The Metal Jet Printer uses the company's Thermal Inkjet technology to deliver a binding agent, whose polymer joins together particles in a standard metal powder.
HP said the printer can precisely layer cross-sections with up to 630 million nanogram-sized drops of binding agent per second, with typical printed metal layers of between 50 and 100 microns.
The powder bed of 16.9 inches by 12.6 inches by 7.9 inches, meanwhile, allows for the printing of either larger components or multiple, smaller parts at the same time.
HP also announced partnerships with powder metals company GKN Powder Metallurgy and injection molding company Parmatech to deploy the technology in industrial settings.
GKN will use Metal Jet to produce components for auto giant Volkswagen and pump manufacturer Wilo, while Parmatech will expand production of parts for medical products manufacturers Okay Industries and Primo Medical Group.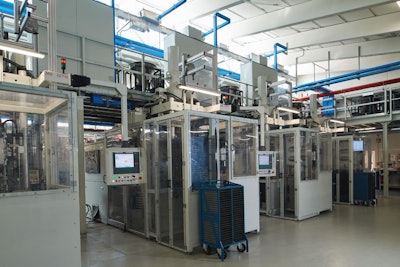 "A single car consists of 6,000 to 8,000 different parts," Volkswagen Technology Planning and Development Head Martin Goede said in a statement. "A big advantage of an additive technology like HP Metal Jet is it allows us to produce many of these parts without first having to build manufacturing tools."
The company's newly announced Metal Jet Production Service will allow other firms to upload designs and receive printed parts from those partner companies, as well.
Tim Weber, the global head of HP's metal 3D printing business, said the company is taking orders for the printers but that they are "not quite ready for prime time." He said commercial availability is expected in 2020, and that pricing would roughly match the Multi Jet Fusion systems for plastics, which range from $100,000 to $300,000.