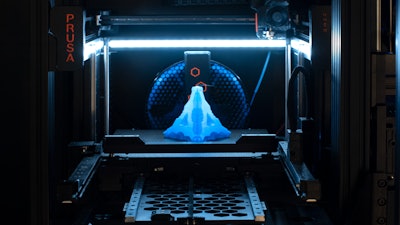 Prusa Research
If EXPO 2020 Dubai attendees wander over to Prusa Research's portion of the event, they may witness what the company hopes will become the future of manufacturing.
Prusa is demonstrating the Prusa Pro AFS as a part its exhibit, "The Future of Manufacturing by Prusa 3D." The AFS, or Automated Farm System, features 34 of the company's original Prusa 3D printers.
At the company's headquarters in Prague, Prusa Research's 3D printing farm includes 600 printers running 24/7 to manufacture parts for new 3D printers. Farm operators control the printers at the company's headquarters, but the new model on display in Dubai is a fully automated farm.
At the expo, the farm prints snowflakes designed by visitors using touchscreen tablets to select and generate unique designs. They are then printed from fluorescent plastic and added to a dynamically growing sculpture.
"It is going pretty well," CEO and founder Josef Prusa said. "It is the first installation and the amount of people who are going through the expo is quite large. It is a great honor to introduce 3D printing to so many new people. When I was there, basically everyone said this was the first time they've seen [a 3D printer] in real life."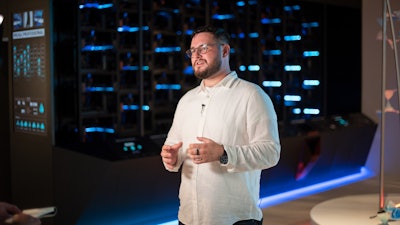 Josef Prusa's experience with 3D printers spans 12 years. Prusa traced the beginning of Prusa Research back to his time with the RepRap (replicating rapid prototyper) project, an initiative to develop a low-cost 3D printer capable of printing most of its components.
"The RepRap project and me, we basically kick-started desktop 3D printing altogether," Prusa said. "Before, there were only Stratasys [and] 3D Systems, and it was very expensive with very expensive printers which were not available to mere mortals. We basically made it cheaper, and because of that, so many new companies sprung into life."
Prusa Research was founded in 2012 as a one-person startup. Today, more than 9,000 printers have been shipped worldwide by a team of more than 600 employees.
The printer separates itself from regular production models. Its design and construction allow for placement into a special scalable rig featuring mechanisms for automatic collection and dispensing of finished 3D prints.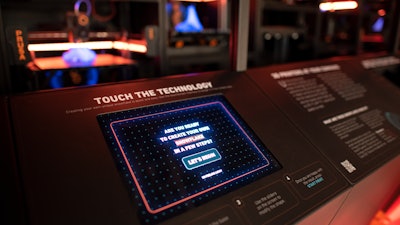 In lieu of human operators, an in-house firmware, slicer and cloud management system known as Prusa Connect runs the entire farm. Prusa said this makes everything work nicely together, but the most significant challenge comes with integrating it into the workflow of other companies.
"We know that we can make the printer, we can make all the parts, but implementing on a per-customer basis will be the hardest part," Prusa said. "Someone is using Microsoft Active Directory; somebody else is using something completely different. [It's trying] to make it work with all the independent systems."
Prusa described the automated printing farm as needing very little maintenance. A typical example of wear and tear happens on the extruder. Nozzles will need changing every couple thousand hours. On occasion, it will jam, which requires a 30-second change.
"It is optimized for quick maintenance," Prusa said. "We are using systems similar to the server racks where the servers are on the slide-out mechanism. So when you need to work on the printer, you just slide it to the back and either work on it or unhook it and put a new one in, push it in and it will start printing again."
Compared to machine milling, there is less waste. In the future, Prusa wants recycled and biodegradable materials to play a role in the farm. The printers currently use PLA (polylactic acid) plastics made from corn starch.
"Companies have to hold large stock of replacement parts for warranty purposes," Prusa said. "These parts just stay in the warehouses for years and most likely will end up in a landfill. In theory, in a couple years, you could use the warehouse for something else, have the print farm in one corner and you just print the replacement parts for customers on demand."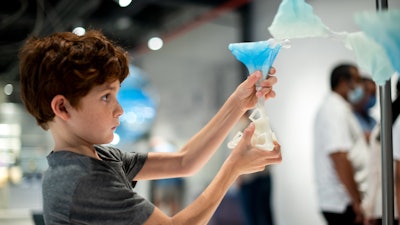 Another development for Prusa Research involves creating the optimal bike seat for avid cyclists. The process would include scanning a rider's buttocks and printing a custom seat — allowing the cyclist to travel longer distances with more comfort.
"The automated farm would easily enable companies to just do it, so they don't have to think about how to implement it," Prusa said. "They can just get this as the whole package to generate the designs and send them to the farm and just pick up the prints."
Prusa emphasized that Prusa Research's most popular 3D printers are more affordable, which harkens back to his time with RepRap, where he sought to make printers cheaper.
"Our printers are sold as gifts for kids at Christmas, but also Skoda Auto, part of Volkswagen Group here in Czech, they have 50 of these printers and they were able to print temporary replacements so they could continue assembly," Prusa said.