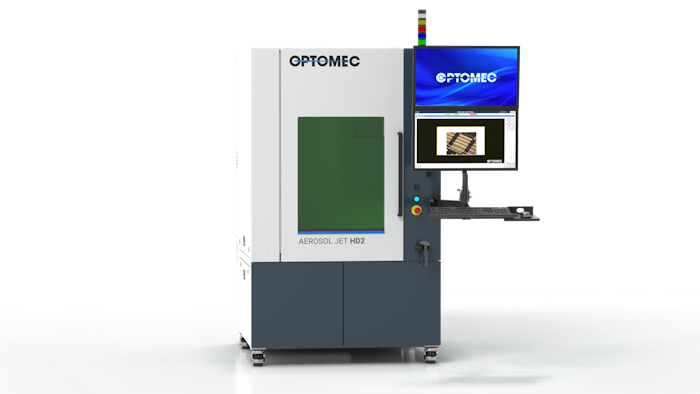 Optomec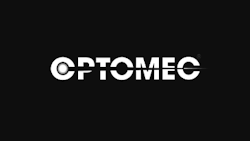 Optomec
Optomec is announcing a breakthrough advanced electronics packaging solution to meet the perpetual demand for miniaturization of mobile and wearable products. 
The Aerosol Jet HD2 uses Optomec's patented Aerosol Jet 3D Electronics Printing solution to produce high resolution circuitry, including a unique ability to dispense conformal 3D interconnects between die, chips, components and substrates. This interconnect approach is all the more powerful due its improved performance at high frequencies, especially for 5G and mmWave applications.
The Aerosol Jet solution works by precision jetting or "printing" an extremely fine mist of nanoparticle-based inks onto a surface. The HD2 can print features as narrow as 10 microns with placement accuracy under 5 microns. The nanoparticles are then sintered together, forming a solid metal conductor of copper, gold or silver.  Insulating and adhesive materials can also be applied by the Aerosol Jet process with a variety of common IC packaging dielectric materials.
As a primary application, the Aerosol Jet HD2 can serve as a drop-in replacement for the decades-old method of connecting electrical components with wire bonds, which suffer from several critical deficiencies. First, wire bonds require high impact mechanical contact with the IC, often producing scrap, especially with fragile, next-generation gallium-based chips. Second, wire bond loops require extra space within the package, making it harder for designers to create sleek, miniature devices to meet the demands of consumer electronics. Third, wire bonds can choke off the high frequency mmWave signals required for 5G communications, automotive radar, and many other emerging applications.
The HD2 electronics printer can also be used to print transmission lines, sensors and antennas on a wide variety of materials including common polymers, IC materials, FR4, glass, ceramic and even metals.
For more information, visit optomec.com