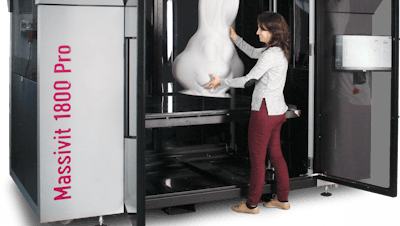 Massivit 3D
Massivit 3D Printing Technologies has expanded its portfolio of solutions with the new Massivit 1800 Pro that offers brand-new features including ground-breaking, patented Variable Resolution, new advancements optimizing durability and resolution, and remote-operation options to significantly enhance operation efficiency & convenience.
The Massivit 1800 Pro brings to the market a patented Variable Resolution capability that can be predefined via the printer's Massivit SMART Pro software to allow a change of print mode (resolution level and layer thickness) on-the-fly during the printing of a model, according to the varying requirements of different model sections. In addition, a new Mega Quality resolution mode allows for faster, high-quality printing of large objects,optimizing gel consumption and printing time. These two new features enable an even more cost-effective production process.
An all-new, remote-operation capability has been developed allowing users to operate the printer and monitor printing progress remotely via a tablet, as well as directly contact Massivit 3D's responsive customer support and service team if needed.
Uptime is maximized by new, simple, automated maintenance procedures that are triggered according to collected data, as well as customizable priorities for preventative maintenance.
For more information, please visit www.massivit3D.com.