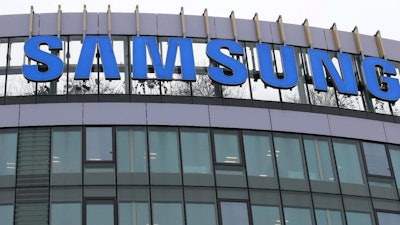 AP Photo/Michel Euler
Samsung's battery subsidiary plans to house its North American electric vehicle operations in Michigan, state economic development officials announced last week.
The Michigan Economic Development Corp. said Samsung SDI America would establish its first high-volume battery pack manufacturing facility, along with an R&D center and its North American auto battery headquarters, in the Detroit suburb of Auburn Hills.
The Korean company's U.S. division, which currently employs 130 workers in Michigan, expects to add 461 jobs at the site through 2024. Samsung officials indicated the position would include line operators, factory managers and engineers, The Oakland Press reported.

State officials, meanwhile, told the paper that Samsung selected the Auburn Hills site over competing bids from Ohio and Oregon, in part due to its proximity to a main supplier. The project's capital investment is expected to exceed $60 million.
"We appreciate their confidence and reinvestment in our community," Auburn Hills Mayor Kevin McDaniel said in the announcement.
The company is slated to receive a $10 million state grant if it meets investment and hiring goals, along with an expected property tax break from the city.