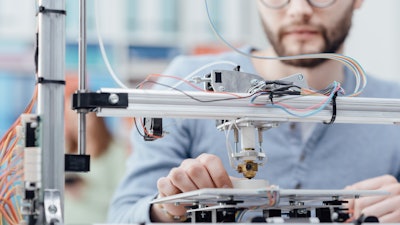 iStock
There's no disputing it: 3D printing has the potential to change the world in ways most of us can't currently imagine. For most, the notion of 3D printing is associated with end products. Whether it's artificial limbs, chewing gum or entire houses, these surprising outputs of this emerging technology attract their fair share of attention.
For manufacturers, however, the benefits of 3D printing go far beyond the end result. For them, the journey to the end product is equally as important, if not more so, as the destination.
Bob Venero, CEO of IT solutions provider Future Tech Enterprise, has seen first-hand how 3D printing – formally known as additive manufacturing – can radically transform the initial stages of product design.
"Today, when you have a prototype made, you can spend $50,000 on your first one, just to find it isn't right," he says. "Then you have to send it back to the manufacturer who did the prototyping and start again. With 3D printing, all that back-and-forth goes away. Production of the prototype is immediate, and you can make adjustments on the fly for pennies on the dollar."
In one instance, he noted, the development of a production-level prototype that had previously cost $46,000 was brought down to less than $2,000.
Venero says there are applications for these new technologies in every industry. BMW, for example, just used an HP Jet Fusion 3D 4200 to create its millionth 3D printed part: a window guide rail for an i8 Roadster. GE Transportation is using the same technology to produce parts for mining vehicles and trains. Even makers of consumer goods as varied as shoes and phone cases are using HP technology to create personalized products.
Integrating VR and 3D Printing
Once virtual reality is added into the mix, says Venero, the possibilities truly start to appear vast. "3D printing and VR are closely connected," he says. "A lot of folks miss that component. If you can visualize what your product needs to be in a virtual world, you can send it directly into a 3D prototype and have that product in your hand within hours."
Multi-user VR, in which multiple people can interact in a virtual setting, enhances the design process even further.
"Imagine you're designing a new car. You and others can interact with the car in a virtual setting and show the components of it. You can pull a component out and hand it to someone else. It makes for a streamlined, competitive, price-conscious solution that will absolutely impact US manufacturing."
Venero is passionate about how these technologies can be just as important for small businesses as they are for larger enterprises.
"Small businesses need to be more agile. Disruptive technologies like 3D can be more agile for the people who need to utilize it," he states.
For companies concerned by the relatively high cost of 3D printing hardware, there are options. They can partner with companies that offer 3D printing services or become part of a consortium of small businesses that pool resources to share access to the new technology. The ultimate impact of 3D printing is, in Venero's opinion, something that can help US-based manufacturing catch up to counterparts in other regions of the globe.
Venero's advice for companies thinking about becoming early adopters in 3D printing is to ask themselves the same three questions he considers when steering his own company into a new technology:
Is there a viable business case? To know this, companies need to do their due diligence and understand what the opportunity for them truly is – and the risk.

Is the end result something that's repeatable once it's designed and sent to market?

What end goal is it accomplishing? There needs to be a specific outcome that benefits the business. Don't invest without a clear goal in mind.
Venero notes, "A lot of folks want to see how it goes, then jump in. Those are the 'me too' companies. Those aren't the thought leaders that will drive a tech solution into a particular market. Having that mindset with smaller companies is what can lead them to be extremely vulnerable long-term. They miss out on opportunities to distinguish themselves as competitors start to integrate new technologies faster, with better results."
Staying in the Game
Eventually, says Venero, 3D printing will be a part of everyday life, touching every industry. He compares it to the development of the internet and the smart phone, technologies that went from being unheard of to achieving everyday ubiquity and mainstream adoption over the course of a decade or less.
What's more, Venero believes 3D printing can help U.S.-based manufacturers close the competitive gap between themselves and manufacturers in other regions because it provides for a more streamlined, competitive, price-conscious solution.
"It will help us get back in the game," he adds.
If that's to be the case, U.S.-based companies will need to pick up the pace at which they are investing in 3D printing. A recent report from management consulting firm A.T. Kearney notes that while the United States is currently the global leader in 3D printing due to its early entry into the space and strength in traditional manufacturing, other nations are adopting the technology at a faster pace.
South Korea, for example, has a strong level of government support in the form of expedited regulatory approvals and tax incentives. Italy's government is supporting universities with 3D printing training courses. Saudi Arabia will use 3D technology to print more than a million homes via a public-private partnership.
Venero sees these developments and understands that the global environment will only continue to be more competitive, and companies that invest early in 3D printing will be best positioned to not just survive, but enter a strong growth phase.
The next industrial revolution is underway. All that remains to be seen is where it will go, and which innovators will lead the way.
- Bob Rybarczyk