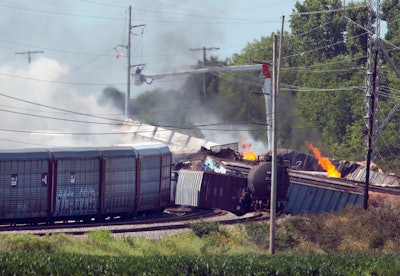 Denny Simmons/Evansville Courier & Press via AP, File
Officials say a buckled stretch of track is believed to have caused a fiery freight train derailment in southwestern Indiana that belched black smoke into the sky and forced the evacuation of nearby homes.
The Evansville Courier & Press reports that the update on the investigation comes in a report to the Federal Railroad Administration from rail operator CSX.
The derailment happened June 17 near a trailer park in Princeton, about 150 miles (240 kilometers) southwest of Indianapolis. No one was injured in the derailment, but 23 freight cars left the tracks.
Five of the derailed cars contained propane, but authorities said most of the smoke came from burning cars loaded with french fries.
The damage was estimated at $1.8 million. The Federal Railroad Administration says the investigation is ongoing.