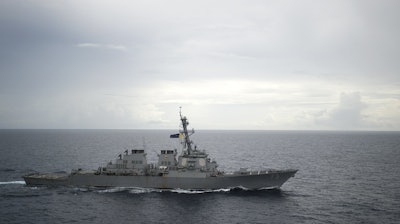 Petty Officer 2nd Class Diana Quinlan/U.S. Navy via AP, File
Raye Montague, a trailblazing black woman from Arkansas who revolutionized the way the U.S. Navy designed ships, has died. She was 83.
Montague, who had a 33-year career in the Navy, developed a computer program that created rough drafts of ship specifications. She told the Arkansas Democrat-Gazette in 2012 that the program allowed the Navy to cut the time it took to build a ship's draft design from two years to 18 hours and 26 minutes.
The newspaper reports she died Wednesday at a hospital in Little Rock. Her son, David Montague, says his mother died of congestive heart failure.
Raye Montague, a civilian engineer, fought discrimination during her career. When a co-worker wouldn't show her how to operate a computer, she taught herself.
"I had to run circles around people, but when they found out I really knew what I was talking about they came to respect me," Montague told the newspaper. "I worked long hours and traveled for the job because I couldn't say I wanted the same wages as the guys if I couldn't. I had to do all the same things, within reason, that they did."
Her son said, "She always made it a point to just try to meet every challenge with a smile."
Montague's work became widely recognized after the release of the movie "Hidden Figures" in 2016. The film told the story of the work done by black female mathematicians during the early days of NASA.
A 2017 article on the Navy's website about Montague noted she was known as the Navy's "hidden figure."
Montague was born in 1935 in Little Rock and grew up in segregated Arkansas. David Montague said his mother was unable to pursue engineering in college because the University of Arkansas in Fayetteville wouldn't accept black students at the time. So Raye Montague attended Arkansas Agricultural, Mechanical and Normal College — now the University of Arkansas at Pine Bluff — and studied business instead.
After graduating in 1956, she went to Washington, D.C., determined to find a job related to engineering. She started as a clerk typist with the Navy and worked her way up to become its first female program manager of ships.
"She was involved with STEM (science, technology, engineering and math) before it was sexy," said Anna Beth Gorman, executive director of Women's Foundation Arkansas.
Montague, who was awarded the Meritorious Civilian Service Award by the Navy, moved home in 2006 to be closer to her son David and his family. She was inducted into the Arkansas Women's Hall of Fame this year.
David Montague said that despite her busy work schedule and career goals, his mother, who was divorced, always made sure to take him to Boy Scout meetings and rarely missed a bowling match.
"I think that's what she'd want people to know," he said. "That she was a real person."