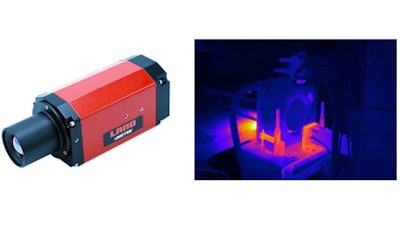 Ametek
Ametek Land has added to its industry-leading temperature measurement solutions with the launch of a new smart thermal imager.
The LWIR-640 long-wavelength thermal imager provides continuous and reliable temperature measurements in harsh industrial and environmental conditions. It delivers a full temperature measurement range of 0 to 1000 °C (32 to 1832 °F) in two ranges, as well as a choice of different optics and field of view (FOV) options.
The imager's high pixel, thermal resolution provides advanced image quality, with unmatched homogeneity across the entire image. The LWIR-640, with its smart Industry 4.0 capabilities, bi-directional I/O-options, robust measurements, and thermographic imagery, is ideal for use in a range of applications, including automation, machine vision, and process control.
The LWIR-640 is particularly suited to field applications where fully autonomous operation of the camera is required, such as flare stacks or pilot flame detection in the petrochemical industry. It can also be used for hot-spot monitoring in storage, or in machine, plant and substation monitoring.
Through live streaming of temperature images at up to 60 frames per second, users will see the measurements and clear, detailed thermal profiles, allowing them to continuously control, document, and visualize the industrial process.
As the thermal imager is easily configured via the integrated web server, with all smart-intelligent functions and I/O options, an on-site view of the image is possible without the need of an additional software. This provides easy camera access, control and setup, and enables the camera to be used autonomously or integrated into existing or new processes.
In process monitoring and control applications, the thermal imagers are easily integrated in new or existing process control systems, providing smart system solutions. Applications include mounting, coating, extrusion, die-casting, and heating – for control of electronic parts, batteries, and more.
The power over ethernet (PoE) GBit-Ethernet one-cable connection provides easy installation and maintenance, leading to Industry 4.0 opportunities, and integration into plant control systems and data managing systems.
In addition, an extensive range of accessories is available for the LWIR-640, including enclosures for cooling and protection, as well as mechanical and electrical accessories.
For more information, go to www.ametek-land.com.