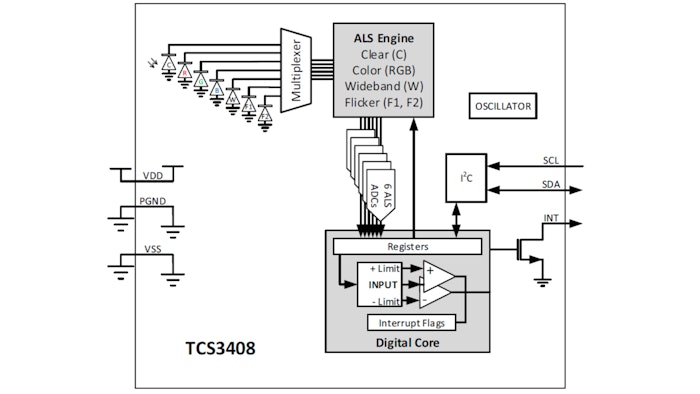 AMS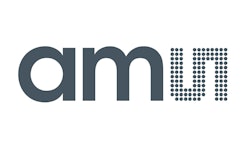 AMS
AMS introduces a sensor solution that enables smartphone world-facing cameras with rolling shutter image sensors to eliminate unwanted image artifacts — such as banding — that are caused by the flickering of artificial light sources.
With the wide-spread usage of LED lighting, photography increasingly suffers from what is known as flicker from the lighting source. The higher accuracy and sensitivity of the new TCS3408 color sensor, which measures the color and brightness of ambient light as well as detecting photometric flicker, enables a phone's camera-enhancement imaging system to eliminate flawed artifacts caused by artificial lighting environments. It delivers the industry's highest level of on-chip ambient-light flicker sensitivity, which is three times greater than the prior generation TCS3707. 
The TCS3408, with on-chip flicker detection, provides an accurate measurement of color and brightness thanks to five concurrent-reading ambient light sensing channels — a wideband and a clear reference channel in addition to the RGB channels. 
The TCS3408 also provides an option to store a sequence of flicker measurements in its internal memory to allow the smartphone's camera's video processor to detect higher-order flicker frequencies up to 2kHz.These flicker frequencies are typically found in modern Pulse-Width Modulated (PWM) LED lighting systems now available and becoming increasingly popular in virtually all lighting environments. 
When visible light modulations from flickering lights are captured while a camera's rolling shutter is in operation, the resulting effect is an image or video with distorted banding artifacts. The TCS3408 device incorporates a flicker detection engine that detects the presence or absence of 50Hz or 60Hz flicker typically generated from incandescent or fluorescent lights. When flicker is detected, it is captured and reported through internal status registers of the device and the digital I2C interface enables fast reporting of output information with external processing. 
For more information, go to https://ams.com/tcs3408.