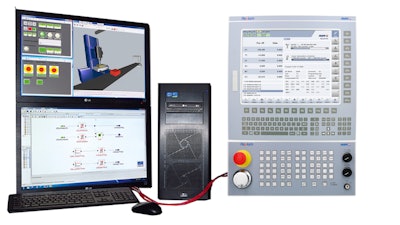 NUM
CNC specialist NUM has launched digital twin technology that enables machine tool manufacturers to reduce their time to market dramatically by using powerful Industry 4.0 simulation techniques.
Originally known as pairing technology, and first used by NASA in the early days of space exploration, digital twin technology is now rapidly gaining industry acceptance as one of the most cost-effective means of accelerating the development of products, processes and services.
For automation products such as machine tools, a digital twin is a virtual model that uses simulation, real-time data acquisition/analysis and machine learning techniques to allow full evaluation of a machine's dynamic performance before constructing a physical prototype. The same technology can also be employed for customer presentations, virtual commissioning and operator training purposes – and all well before the actual machine itself has even been built.
NUM offers two versions of digital twin technology, to best suit customers' needs. Both versions are designed for use with NUM's powerful, open-architecture Flexium+ CNC platform. One version uses a naked Flexium+ controller and resident virtualization software running on the system's industrial PC to simulate the twinned machine automation. The other version uses the actual Flexium+ controller that will eventually be incorporated in the machine, linked via EtherCAT to a standalone PC running specialist high speed hardware simulation software to represent the mechatronics of the twinned machine.
The virtual controller version includes a software development kit for creating the software model of the machine. The model is a standalone PLC program that uses predefined components to simulate individual machine elements, such as sensors, spindles, pneumatic cylinders, etc.
NUM's new digital twin technology provides machine tool manufacturers with a very powerful and cost-effective means of reducing their developments costs and accelerating their time to market. 
For more, visit https://www.num.com.