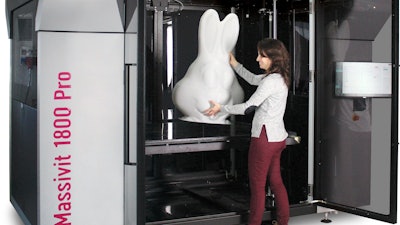 Massivit (Twitter)
Israeli 3D printing firm Massivit 3D this month debuted a new printer at industry showcases in Shanghai and Munich.
The company, which targets the advertising, entertainment and architectural sectors, said the Massivit 1800 Pro optimizes durability and resolution, offers options for operating remotely, and includes a proprietary variable resolution capability.
The latter feature, officials said, allows users to alter the resolution and thickness of a print "on the fly," including for faster printing of larger objects.
"The Massivit 1800 Pro is the next generation of large format 3D printers with enhanced efficiency, flexibility and control," Massivit Vice President Amir Veresh said in a statement.