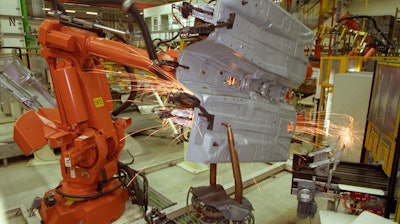 iStock
North American companies received a record number of robots in 2018, but the industry that long led the region's push into automated technologies saw a decline last year.

A new report from the Association for Advancing Automation's Robotic Industries Association showed that nearly 36,000 robots were shipped to companies in the region in 2018, an increase of 7 percent compared to the year prior.

The automotive industry, however, saw its share of the market for new robots decline to 53 percent — its lowest level since 2010 — as its shipments declined 12 percent to more than 19,000.

The downturn in robot shipments to automakers and their suppliers coincides with a tumultuous time in the U.S. auto industry as companies seek to adjust to a changing vehicle marketplace.

A3, however, downplayed the decline by robotics' largest consumer amid significant increases in other segments — and the continued embrace of automation by more small and mid-size companies.

"While the automotive industry has always led the way in implementing robotics here in North America, we are quite pleased to see other industries continuing to realize the benefits of automation," A3 President Jeff Burnstein said in a statement.

The food and consumer goods sector, the report said, saw 48 percent more robots shipped last year, while plastics and rubber companies saw 37 percent more. Other industries to report substantial increases included life sciences at 31 percent and electronics at 22 percent.