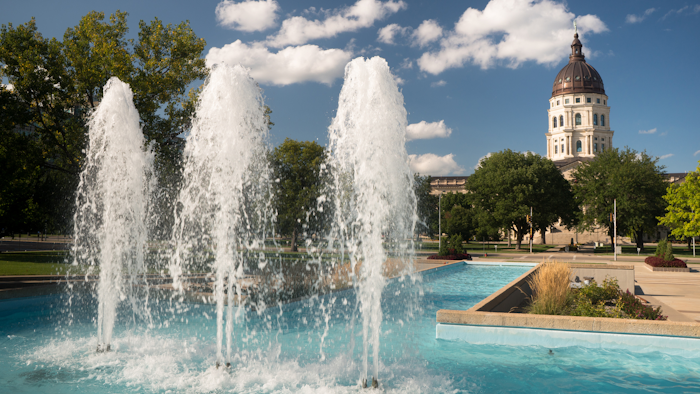 iStock
A new innovation center and, down the road, a science and technology park are some of the big items on the list of Greater Topeka Partnership's new innovation leader Katrin Holzhaus.
As the senior vice president of innovation for GTP and 712 Innovations, Holzhaus is focused on building an entrepreneurial ecosystem for the capital city.
It's a cool job title that Holzhaus embraces as part of Shawnee County's community-wide revitalization efforts.
"What I've learned since I started my position here, which will be three weeks, is that there are a lot of interesting initiatives in the entrepreneurial space that are going on that are successful, that have a lot of commitment from the community, but there is no central hub that combines all these efforts in an effective way," Holzhaus told The Topeka Capital-Journal . "I want to listen to anybody who could be a potential user for those resources to see how we can do better. So I approach my job from a business perspective, with the business owner in mind, or with the entrepreneur in mind, or with the stakeholder in mind."
Matt Pivarnik, GTP president and CEO, said he started considering Topeka needed someone focused on growing innovative businesses full-time as the partnership organizations worked in the last year developing strategy.
"One of the last things they said is that we need a leader that wakes up every day, focused on this," he said. "I had really never contemplated that we would need a staff person, but there's just so much opportunity out there, and if it's not somebody's s focus, fulltime, then can we really expect ourselves to compete?"
Pivarnik pointed to the International Economic Development Council's three legs of an economic development stool: business attraction, retention and expansion, workforce and education; and entrepreneurship and startups.
That last leg, he said, was fairly weak in Topeka.
Holzhaus said she is still becoming familiar with Topeka and learning its assets. Her initial focus will be on growing 712 Innovation into an innovation center, and, eventually, to creating a science and technology park. 712 current operates as a co-worker and makerspace at 712 S. Kansas Ave. For months, the organization's leaders have been considering a move, as the demand for space there exceeds the availability.
A new space hasn't been finalized but everyone associated with 712 is considering its future in creative ways, she said. The innovation center will stay in the downtown area, she said.
"I would hope that the innovation center can be home to any type of entrepreneur, but, of course, the incubator that will be housed within the innovation center will be targeting specific innovative companies with innovative products and fintech (financial technology)," Holzhaus said. "It could also be biosciences, it could be engineering, IT.
"And then the second leg of the strategy is the science and technology park that has been discussed, where, we build infrastructure that includes lab space for any company that is in the animal health or human science sector to have the facilities they need to do their research and to prototype their products, and to do proof of concept, things like that," she added.
Holzhaus, 48, brings decades of experience in education, entrepreneurship, business operations and, most recently, serving as a coach to animal health startups at the 2018 KC Animal Health Investment Forum. She has held multiple positions at biotech/pharmaceutical startups in the public and private sector and knows wells the challenges to launching a business. Early in her career, she worked at a chamber of commerce in her native Germany, supporting entrepreneurs.
"I learned a lot early on in my career, that a lot depends on listening to people, what their real needs are, but not just listen and take it all in, but you have to follow through and actually create projects that fit the need of your target audience," she said.
That follow-through is critical and one of the strengths Holzhaus said she brings to the job.
"As an entrepreneur in a small startup, you wear so many different hats," Holzhaus said. "Starting a business is hard. It takes your full commitment, personally, from your family, from your friends. You can't do this halfway. And it's risky, and you have to make hard decisions, but if it works out, there's no better feeling than having built something with your own ideas, with your own network, maybe with your own money, and add value in some shape or form to society. That's what makes me excited every day."
Holzhaus brings an outside perspective to the work at GTP, and the organizations under its umbrella, such as Visit Topeka, GO Topeka and Downtown Topeka. Much of what she will do overlaps with other areas, such as building a workforce that can support innovation, which is tightly woven with education and talent development initiatives.
Connecting with area schools will be important, she said, to encourage student entrepreneurship and to build workforce.
"I've spent enough time around college students, they want to have a dream," Holzhaus said "You start out, you want to do something great in life. If you can be part of the new Topeka innovation center, and maybe have some events or some classes there or have an internship at a research institution or at a pharmaceutical or an animal health science company, then you may come up with these new ideas that are worth promoting and worth looking into in terms of creating a new business."
The talent pipeline is critical to Topeka's success.
"Quite frankly, a company will not move here if there's no talent," Holzhaus said. "An entrepreneur needs facilities, talent, investment funds — they need money — and they need mentorship. So if we can provide those pillars, then we give number one, we give startups a reason to move here. But we also want them to be successful here, because we need success stories."
In looking at studies about why startups fail — about 50 percent of startups fail, with the number rising to 75 percent of venture-backed startups — Holzhaus zeroed in on one that supported what she's personally seen.
"The number one reason is lack of focus. That sounds like a fixable problem to me," she said. "Lack of motivation, commitment and passion; too much pride resulting in unwillingness to see or listen; taking advice from the wrong people; lacking good mentorship. All of these reasons, they are fixable."