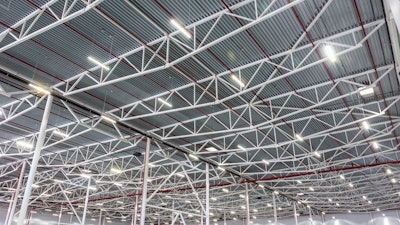 iStock
As LED lighting becomes more widely available and affordable, the technology is making strong inroads in the industrial light sector, providing a much more efficient, sustainable and economical lighting solution. Companies around the world and in a broad range of industries have adopted LED for its dramatically improved light quality and visibility, long-lasting durability and cost-effectiveness compared to conventional HID lighting.
In fact, LED lighting has gained such momentum that, in addition to retrofit projects, a growing number of new construction initiatives spec in LED from the start. The new zero-emissions Rubis Terminal is one prominent example, in which the Rotterdam, The Netherlands, facility incorporated high-efficiency LED fixtures as a key component in its zero-emissions design mandate.
But there is still plenty of opportunity for LED lighting to expand further into the industrial sector. With just under 10 percent of facilities in the U.S. alone converted, it's clear that many, many companies are missing out on the well-documented benefits of industrial LED lighting, which range from lower energy consumption and cost and reduced maintenance expense to safer facilities, a smaller carbon footprint and an environment that's more energizing and invigorating for workers.
In 2019, we can expect to see LED industrial lighting adoption continue to grow, and along with it, a new range of innovations and features that build off LED as a lighting platform. Here are the three biggest advances we're likely to see over the next 12 months:
Controls will become mainstream. One of the most unique features of LED lighting technology is the ability to introduce automation into the lighting equation. By virtue of their instant-on capabilities and their ability to be networked through wireless connectivity, industrial LED fixtures are ripe for the widespread deployment of advanced controls systems that further enhance efficiency and streamline lighting and energy management. Using occupancy and daylight harvesting sensors helps to reduce burn time and slash energy use, while connecting fixture networks to enterprise management software provides complete visibility over lighting performance enabling proactive energy and equipment management. Furthermore, integration with existing facility management solutions and industrial automation systems can bring lighting into the fold to fine-tune operational workflows and optimize efficiency. In the coming year, we'll see more of these kinds of controls and integrations projects take shape as companies work toward becoming smart facilities of the future.
Lighting will support IIoT deployment. Industrial Internet of Things (IIoT) technology is gaining traction as companies discover the valuable performance and analytics insights that come from connecting data about equipment, materials, products and infrastructure. Because industrial LED lighting is built upon a system of wireless nodes, the fixtures themselves can be integrated into IIoT infrastructure to support data transport and productivity tools, such as RFID and optical sensors that track equipment, people and materials. For example, sensors can monitor raw material inventory and tie into requisitions systems, or asset-tracking tags can monitor mobile equipment or tools to prevent theft or track lifespan. With advanced LED industrial lighting in place, the network is there, forming the backbone of a future-ready system.
LED will enable safety upgrades. Not only do LED lighting fixtures provide better visual clarity to enhance workplace safety and provide better visibility and clarity for closed-circuit security monitoring systems, they can also provide a platform for additional safety upgrades. For example, with the miniaturization of HD cameras, Wi-Fi security cameras could even be added directly into light fixtures to expand monitoring coverage. Even more advanced, connecting smoke or hazardous substance sensors to LED lighting networks can provide a highly effective early-detection system for plant safety. In addition to detecting hazardous conditions and triggering an alert, the sensors could be configured to automatically illuminate the lights along the evacuation route dynamically, based on the absence of the offending substance, to guide personnel on the fastest, safest escape route.
ADR will become more important. With volatility in the energy market fueled by shifting pollution mandates, electricity is no longer a finite resource. A growing number of utility providers are implementing industrial conservation programs, working with large energy customers to curb consumption. Automated demand response (ADR) technology — the ability to dynamically respond to a utility demand for reduced consumption — is becoming more important as demand outpaces supply. Integrating smart LEDs into an automation network enables hands-free compliance with ADR requirements by programming the system to dynamically reduce light utilization or output based on need, reducing power to nonessential lighting without compromising safety and with minimal impact on productivity.
Custom illumination will offer infinite options. Because LED lighting fixtures now offer such a wide range of options when it comes to light color and intensity, in 2019, we'll see more companies take advantage of this capability to create custom light schemes based on specific needs. For example, lumen intensity can be adjusted for optimum visibility in inspection and quality assurance areas, but toned down in other areas where high-brightness isn't required for a more energy-efficient operation. Color can also be adjusted to intensify perception of certain colors for safety or other indication. With modern LEDs, companies can design an illumination plan to fit any application.
As industrial facilities face increasing pressure to modernize in order to keep pace with technology and competitive forces, it's critical that companies address all aspects of site management and productivity. While the natural inclination is to focus on production and operations as primary opportunities for efficiency upgrades and investment, simply changing out the lights to modern, future-ready industrial LED lighting technology can have a substantial impact on productivity and the bottom line.
Unlike conventional HID lighting technology, which hasn't seen a substantial technological innovation in decades, industrial LED technology continues to advance every year, with improved performance, wider applications, a broader range of form factors and a dynamic platform that's ideal for supporting additional functionality beyond lighting.
As we look ahead to a future of automation, integration and optimization, advanced industrial LED technology provides the most effective solution to support the evolution to smart facilities of tomorrow.
Luis Ramirez is the chief operating officer of Dialight.