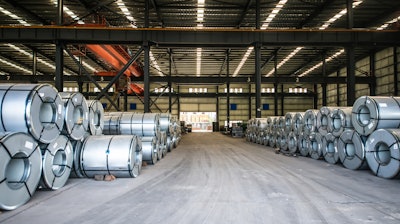 iStock
A six-year-old Massachusetts company hopes to push a hallmark of the industrial age toward a carbon-free future.
Boston Metal contends that electricity could replace the carbon-heavy fuel long used to separate iron and other metals from their naturally occurring states — and a handful of prominent investment firms agree.

The company's latest $20 million fundraising campaign, Fortune reports, was led by Breakthrough Energy Ventures, the energy technology investment fund established by Microsoft founder Bill Gates.
"A critical piece to achieving a carbon-free world is the decarbonization of steel production," Katie Rae, CEO of The Engine — the MIT venture fund that joined the latest fundraising campaign — told the publication.
The company, like innumerable startups in the area, has its roots in the labs of the Massachusetts Institute of Technology. As part of a NASA competition, MIT chemist Donald Sadoway proposed using a electrolytic cell to separate oxygen from lunar rocks.
Fortune reported that he subsequently turned his attention to the potential of similar technology on Earth, and co-founded what would become Boston Metal in 2012.
The company's system, known as metal oxide electrolysis, effectively applies an electric charge to a specific mixture of oxides to form a pool of the desired metal at the bottom of the cell. The process produces oxygen as its only byproduct.
Conventional steelmaking, by contrast, burns a coal-based fuel known as coke with the iron oxide — and releases an estimated 360 million cars' worth of carbon into the atmosphere.
The latest fundraising round, officials said, will allow Boston Metal to hire more engineers and begin to move toward the commercial market. Fortune noted the company hopes to build its first industrial-scale plant — which would produce an alloy known as ferrovanadium — within three years.
"The metals industry tends to be a very conservative industry," Boston Metal CEO Tadeu Carneiro told the magazine. "And getting rid of CO2 emissions, especially for steel, is a big deal."