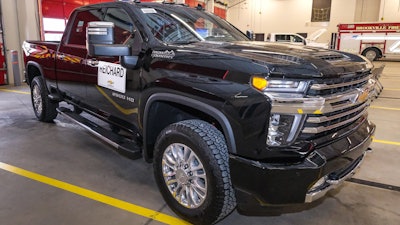 AJ Mast for General Motors
Last week, General Motors and Isuzu announced a $175 million investment to build an all-new, diesel engine components plant in Brookville, Ohio.
The 251,000 square-foot facility will expand the production of engine components for the company's DMAX diesel engine manufacturing operation in Moraine, Ohio.
The investment will be made through the DMAX joint venture that is 60 percent owned by GM and 40 percent owned by Isuzu Diesel Services of America, Inc.
The new investment will create more than 100 new manufacturing jobs at the Brookville site.
Preliminary work has already begun, and construction is scheduled to be completed by the end of 2020.
The move is the result of surging popularity in GM's 2020 Chevrolet Silverado and GMC Sierra pickups.
Heavy-duty trucks make up about 25 percent of full-size pickup sales in the U.S. The company is sharply increasing production of crew cab and diesel models to meet growing customer demand.
GM has consolidated heavy-duty pickup production at its Flint, Michigan truck assembly plant, where the company has installed new body and paint shops and created 1,000 new jobs to support a capacity increase of 40,000 units compared to the outgoing model.
DMAX has built more than 2 million diesel engines since the facility opened in 1999.
DMAX currently employs nearly 900 and its 670 hourly employees are represented by IUE-CWA Local 755.