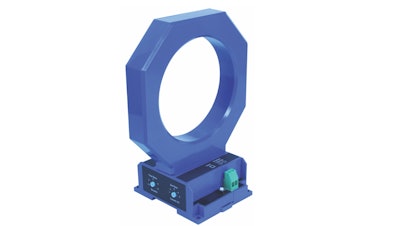 NK Technologies
NK Technologies announced the AG-LC Series, a new ground fault sensor that makes it easy to monitor larger circuits.
The 2011 NEC requires ground fault protection of the main overcurrent device feeding marinas and boatyards, where these services often carry up to 800 amps. Most sensor designs do not allow the conductors to pass through a single sensing ring, requiring a separate sensing device such as a zero-sequence current transformer.
The AG-LC Series resolves this issue with an innovative large solid-core housing design that provides ample space for multiple conductors to pass easily through one sensing window. Key applications include generators, water systems and other large machines.
Highlights include:
Electromechanical relay output provides both normally open and normally closed contacts

Compatible with most automation and control systems
Externally powered – choice of fail-safe or standard operation
Simple field setpoint adjustment
Adjustable time delay
DIN Rail or panel mount
For more, visit https://www.nktechnologies.com/