Atlas Copco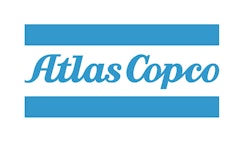 Atlas Copco
Atlas Copco Compressors LLC launches its new LRP 700-1000 VSD+ range, featuring three vacuum pumps developed for wet, humid and dirty applications.
A huge departure from classic liquid ring pumps, the LRP 700-1000 VSD+ is a compact, high performance, energy-efficient system enclosed in a rugged noise-attenuating canopy.
Ensuring efficiency, the dual VSD system operates in absolute harmony within the pump. The primary VSD accurately maintains required vacuum levels by controlling the operating speed of the pump, matching pump performance to process demand and saving energy. The second VSD regulates the water circulation pump in response to the operating conditions. 
Optimizing water flow within the pump element provides maximum performance and stability at all vacuum levels and operating speeds. The patented features and unique algorithms balance the operation of the water pump with the speed of the main motor.
The intelligent aspect of the pump comes through Atlas Copco's MkV Elektronikon controller as standard, providing a comprehensive built-in management system. Key information on performance and maintenance is readily available and very visual. Multiple pumps can be monitored, controlled and optimized simultaneously, giving customers the most suitable product performance at all times. The pump can also be remotely monitored via Atlas Copco's SMARTLINK program.
The compact, integrated design, which includes many features usually only seen on the outside of the cubicle is still up to 70 % smaller than comparable models – this also makes it a truly plug and play design. An operating noise level in the range of 65dB(a) makes the LRP VSD+ an extremely quiet vacuum pump.
For more, visit www.atlascopco.com/air-usa.