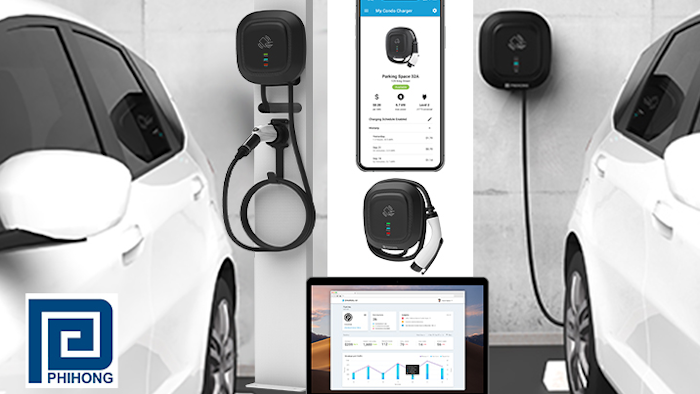 Phihong
Phihong has released its new Level 2 AW Series 32A EV AC Charger.
Featuring an input voltage range of 200VAC–240VAC, and a built-in rotary switch for selecting maximum output current, the new compact, thin-profile AW Series AC charger is ergonomically designed with IP55-rated weatherproof casing to provide an easy-to-install, customizable solution for indoor and outdoor applications. 
Available with wired or wireless connectivity for communication with a central office to provide operator assistance, trouble-shooting, software and charging status updates, the new AC chargers also have an optional feature for an intelligent RFID card reader for user identification and management, and are ideal for use in commercial, multi-dwelling unit, and residential EV charging stations.
The new AW Series 32A EV AC charger's internal rotary switch enables users to select the charger's maximum output current so that multiple chargers can be shared with a single 40A circuit breaker. The switch allows the AW Series charger to support the requirements of EV power configurations in all regions, making it ideal for fleet management, service station, and parking garage applications, as well as for EV infrastructure operators and service providers, and EV dealer workshops around the world.
With the option for remote connectivity through LAN, Wi-Fi, or 4G, the new AW Series chargers can support any Open Charge Point Protocol (OCPP) 1.6 JSON-compatible back-end management system, including those developed by customers, as well as the OCPP-compliant software platform from ChargeLab, a leading provider of software for managing EV charging stations. 
Through seamless integration with ChargeLab's subscription-based advanced charger management system software for billing, user identification, and power management, the AW Series is proven ready for immediate plug-in to full-stack EV charging solutions, including hardware, network connection, and advanced software controls. 
For more information, please visit https://www.phihong.com/