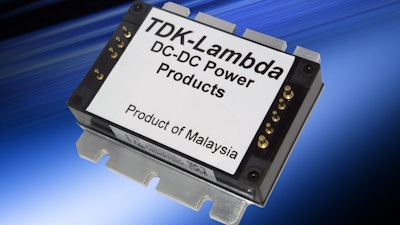 TDK
TDK Corp. announces the introduction of the TDK-Lambda FQB series of EMC filters with a rating of 40Vdc at 20A.
Voltage surge and spike protection for DC-DC converters is accomplished through the use of active technology. The FQB has a rugged encapsulated quarter-brick package with a choice of flanged or non-flanged baseplates. These modules are suitable for use in a wide variety of harsh and demanding environments, including MIL-COTS vehicle and airborne applications.
The FQB series is designed with a high differential and common mode noise attenuation, simplifying system level compliance to the MIL-STD-461(F, G) standard. The modules also provide input spike and surge protection per MIL-STD-1275(D, E) and RTCA/DO-160G (Sec 16-18). Qualifying testing is consistent with MIL-STD-883F and MIL-STD-202G.
The operating input voltage is 8.5 (start-up) to 40Vdc and the filters can withstand transients of up to -50 to +210V. Reverse polarity and over current protection is also provided. The filter modules have a remote on-off function and an open collector DC Good/Fault signal. No load input current is typically 3mA but reduces to 1.5mA when the remote on/off function is initiated.
The PCB mount FQB can be cooled using either an industry standard ¼ brick heatsink, or conduction cooled via a cold plate. The non-flanged package size measures 60.6 x 39 x 12.7mm (L x W x H) and the flanged version 60.6 x 55.9 x 12.7mm. The total DC resistance of the filter is typically 30mΩ, minimizing power losses.
The filters are available with standard production screening (-S suffix) and a baseplate temperature rating of -40°C to +115°C, or with enhanced screening (-M suffix) and an extended temperature rating of -55°C to +115°C. Enhanced screening includes functional testing at high and low temperatures and a 96 hour burn-in period with temperature cycling.
For more information, visit https://www.us.tdk-lambda.com/lp/products/fq-series.htm.