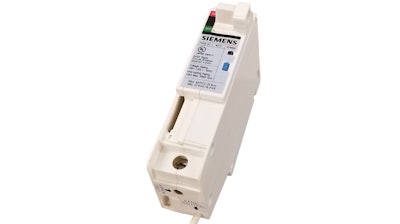 Siemens
Siemens (Washington, DC) has received UL listing for a 120-volt, single pole solid-state circuit breaker.
The solid-state breaker concept replaces the traditional moving parts of an electromechanical circuit breaker with semiconductors and advanced software algorithms that control the power and can interrupt extreme currents faster than ever before.
Because the basis of the new product is electronic, the speed and programmability of power distribution and management are entering a new era. Fully digital power has the potential to improve safety, reliability, and product customization more than current electrical management systems. Users have new abilities to understand and manage the consumption, safety, and application of electricity.
Heat generation is inherent to semiconductor-based products. This new Siemens device is also the first UL listed solid-state breaker that operates with passive heat management, meaning it does not require any special panels or equipment. It is designed for use in standard electrical panels.