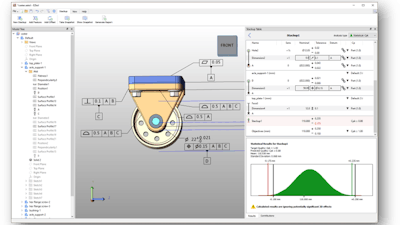 Sigmetrix
MCKINNEY, Texas – Sigmetrix, experts in mechanical variation management, announced their release of EZtol 2.1.
This new version builds on the recent release of 2.0 supporting NX and CATIA models that provided a much simpler interface and smaller download to add the ability to read PMI data, tolerance information defined with the CAD part files, for SOLIDWORKS, and offers these new highlights for all supported CAD systems:
New option to bias assembly shift to center

Allow selection of reference planes and axes as features in the stackup
Allow circular edge to be used in two directions
Allow minor misalignments between mating features
EZtol is a 1-Dimensional tolerance stackup analysis program designed to assist in understanding the impact on assembly-level requirements of the accumulation of part-level dimensional variation and part-to-part assembly variation. Interested users, including those who may have tested earlier versions of EZtol, may download a 7-day free trial from eztol.com.
EZtol v2.1 is a significant upgrade to the capabilities of Sigmetrix's initial release of this 1D tolerance analysis tool.
Learn more at sigmetrix.com and eztol.com.