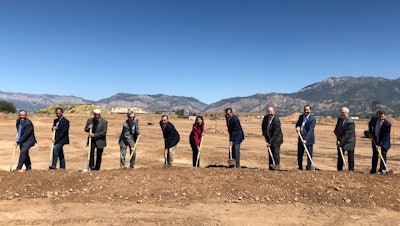 Northrop Grumman
Northrop Grumman this week held a groundbreaking ceremony for a new headquarters to build next-generation nuclear missiles.

The site in Roy, Utah — located adjacent to Hill Air Force Base to the north of Salt Lake City — will serve as the hub of the defense contractor's Ground-Based Strategic Deterrent operations. The GBSD program will begin replacing the nation's arsenal of LGM-30 Minuteman III intercontinental ballistic missiles beginning in 2029.

Northrop expects the site to house some 2,500 Northrop Grumman employees, which would increase the company's footprint in Utah by nearly 50 percent.

"Modernizing the current ICBM system is a national security priority, and we are proud to be here today to reinforce our commitment to the U.S. Air Force on GBSD and our readiness to deliver on this critical mission," Northrop Grumman President and CEO Kathy Warden said in a statement.

Warden added that the company's workforce would support the missile program "through the 21st century."

The facility is expected to be completed by the middle of next year.