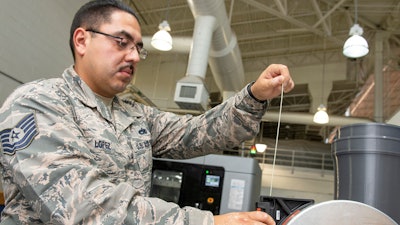 U.S. Air Force photo/Louis Briscese
The U.S. Air Force's 60th Maintenance Squadron earlier this month 3D-printed replacement parts for a military transport aircraft — and became the branch's first field unit to use 3D printing for aircraft components.
The Air Mobility Command this week detailed the unit's authorization to print non-structural parts from a certified Stratasys F900. Three technicians from the 60th were trained and certified to use the printer at Travis Air Force Base in Northern California.
The group took just more than three days to print two latrine covers for the Lockheed Martin C-5M Super Galaxy earlier this month. Master Sgt. John Higgs, the unit's aircraft metals technology section chief, said those covers typically take about a year to be delivered — and noted that replacements for parts not deemed mission-critical often aren't given top priority.
"It brings us a capability that we've never had before," Higgs said.
The Stratasys printer can produce parts as large as 36 inches by 24 inches by 36 inches made of a material called Ultem 9085, which offers more strength, flexibility and density than ordinary plastics. The 60th technicians printed the covers from designs that were downloaded from a database maintained by the University of Dayton.
The technology, officials said, should enable units at Travis and other bases to replace parts — aerospace and otherwise — more quickly and cost-effectively.
"We already have a list from the Air Force level to help them print and to backfill some supplies," Higgs said.