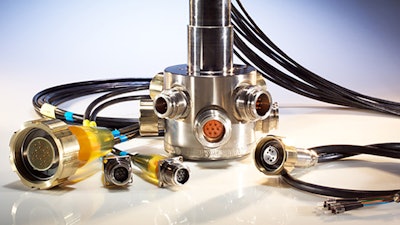 AMETEK
WESTERLY, RI -- AMETEK SCP, a manufacturer of underwater cable and connector solutions for military and commercial applications, has recently been awarded $7 million dollars in contracts from international partners to provide equipment for nuclear and diesel electric attack submarines.
The orders have been split between European and Asian partners.
AMETEK SCP will supply hull penetrators, cable assemblies and associated equipment for new construction and deep maintenance spares.
The company will manufacture the equipment in 2019 in Westerly, RI, USA and Barrow-in-Furness, Cumbria, UK.
Installations, repair services, and training will be supported by the International Field Support team.
"AMETEK has supported the worldwide submarine community for decades," notes Liam Shanahan, Business Unit Vice President for AMETEK Engineered Interconnects and Packaging. "We look forward to supporting the complete service life of all current and future submarines for the U.S. and our International partners."
AMETEK SCP is a division of AMETEK Electronic Components and Packaging.