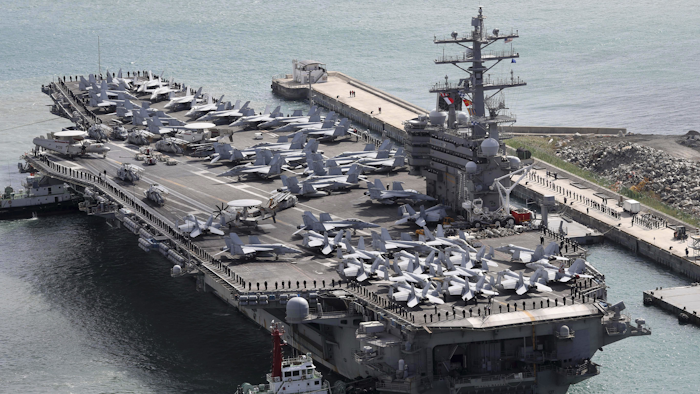 Jo Jung-ho/Associated Press
U.S. Navy researchers hope to curb the number of sailors needed to move supplies aboard aircraft carriers with help from robots.

Defense Department officials recently detailed ongoing research at the Robotics and Intelligent Systems Engineering Laboratory at the Naval Air Warfare Center Aircraft Division in central New Jersey.

The research team, as shown in a video from the Naval Air Systems Command, is working with small, four-wheeled robots with platforms to carry supplies.

Robots are already used by private industry to move cargo in warehouses, but aboard massive aircraft carriers, engineers need to ensure a robot can properly handle military cargo and weapons, evade potential obstacles on deck and weather the elements — both man-made and naturally occuring.

"We want these robots to integrate well on the carrier deck environment and we don't want sailors having to worry about robots running over their toes," RISE Lab engineer John Kelly said in the video.

Engineers hope that one sailor controlling a robot could replace the team of sailors currently needed to move "weapons skids" around the ship. Officials argue that would improve safety and efficiency, as well as reduce sailors' workloads and allow them to take on less monotonous tasks.