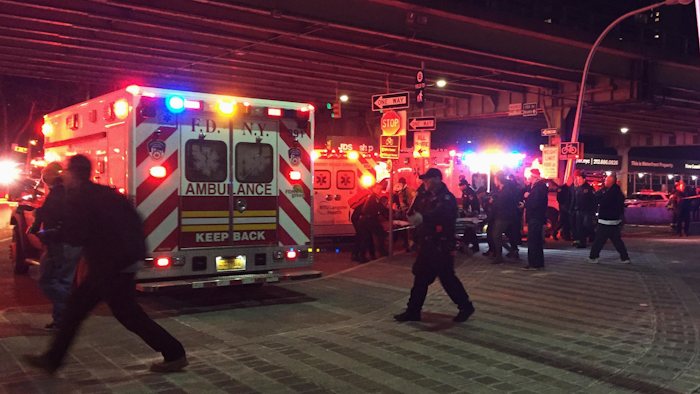 Jennifer Peltz/Associated Press
A wearable device capable of monitoring the condition of numerous patients during emergencies is now in the hands of first responders across the country after its successful deployment by the military.

The U.S. Navy Office of Naval Research sponsored and developed the Wireless Vital Signs Monitor with the U.S. Army Institute of Surgical Research and Iowa-based device maker Athena GTX.

The WVSA weighs less than a pound and easily wraps around a patient's arm as its sensors measure heart rate, pulse, blood pressure and other vital signs.

Unlike other monitors, however, ONR officials said software algorithms analyze that data to indicate whether someone is improving or getting worse — and calculate the need for crucial interventions such as surgeries or blood transfusions.

"The sooner you can receive such data, the better the outcome in an emergency," said Athena GTX President and CEO Dr. Mark Darrah.

The information is transmitted wirelessly to tablets or smartphones carried by emergency medical personnel, which allows them to simultaneously monitor more than 15 patients while attending to an individual or stepping away for supplies.

The devices are currently used by the U.S. Special Operations Command and the Air Force, and were recently approved by U.S. Food and Drug Administration. More than 200 WVSAs were sold to first responders in Iowa, Maryland, Missouri, North Carolina, Pennsylvania and Texas — where emergency personnel deployed it following a hospital explosion in June.