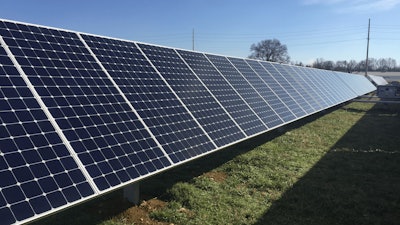 Holcim
Holcim U.S. and TotalEnergies yesterday announced a new partnership to bring large-scale solar power and battery energy storage to Holcim's Portland cement plant in Florence, Colorado.
TotalEnergies will install, maintain and operate a 33 megawatt (MW) DC ground-mounted solar array and 38.5 MWh battery energy storage system at the factory. Holcim has pledged to power all of its U.S. operations with 100% renewable energy by 2050.
The project's solar array will be optimized for maximum energy yield with single-axis solar trackers that follow the sun's movement through the day and high-performance bifacial solar panels that generate power on both the front and back sides.
The energy storage system aims to reduce the factory's impact on the local utility grid, particularly during on-peak periods when regional demand for electricity is high.
The TotalEnergies solar-plus-storage solution is anticipated to reduce the plant's CO2 emissions by more than 40,000 tons annually and offset more than 40% of its current energy demand.
Holcim will receive roughly 71,000 MWh of clean power from the project per year under a Power Purchase and Storage Services Agreement (PPSSA) with a minimum term of 15 years.
Operations of the renewable energy system are expected to begin in 2025.