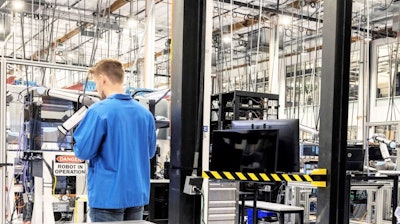 Amazon
Amazon is continuing to invest in people and facilities to support Project Kuiper, a low Earth orbit (LEO) satellite network that will provide broadband to unserved and underserved communities around the world. The program is based in Redmond, Washington, and we've continued to expand our footprint in the region since announcing an initial 219,000-square-foot research and development facility in 2020.
Amazon said it needs to operate at a much larger scale and that requires dedicated manufacturing space, so it announced plans to develop a dedicated, 172,000-square-foot satellite production facility in Kirkland, Washington. The new facility will create more than 200 aerospace and manufacturing jobs in the Puget Sound region and provide the scale required to build as many as four satellites per day.
"We're excited with Amazon's selection of Kirkland for Project Kuiper's satellite production facility," said Kirkland Mayor Penny Sweet. "Whether you're looking to get your foot in the door or are pursuing an advanced, high-level career, this will bring even more economic opportunity for professionals who live here and for those who have yet to call Kirkland home. Partners like Amazon are critical in demonstrating why our city is such a great place to live, work, and play. Our state's pioneering spirit has revolutionized aerospace. As Project Kuiper's partner, Kirkland is proud to continue this tradition."
Project Kuiper's first two prototype satellites will launch in early 2023 on United Launch Alliance's (ULA) Vulcan Centaur rocket, and Amazon has secured up to 92 heavy-lift launches from Arianespace, Blue Origin, and ULA, marking the largest commercial procurement of launch vehicles in history. These contracts will provide enough capacity to deploy the majority of our satellite constellation and support thousands of suppliers and highly skilled jobs across the United States and Europe. Also on Thursday, ULA announced the groundbreaking of new facilities in Decatur, Alabama, nearly doubling its capacity to support the partnership and supply the launch vehicles needed to get Kuiper satellites into orbit.
More than 1,000 people are working on Project Kuiper across the U.S., including in cities like San Diego, Austin, New York City, and Washington, D.C.