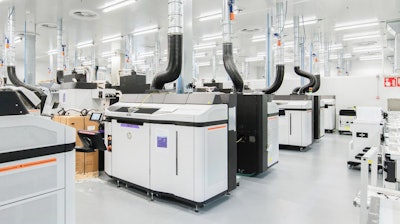 HP
HP on Thursday announced the debut of a novel polypropylene material for 3D printing that it said would provide the same flexibility as polymers used in injection molding.
The printer and electronics company said the HP 3D High Reusability PP material — developed with German chemical giant BASF — is durable, chemically resistant and features low moisture absorption, and would offer "an optimal balance between performance and cost."
The material also minimizes waste at the mass-production level, and can enable the complete reuse of surplus powder, officials said.
"From advanced prototyping to the production of final parts, we are excited about the impact this new PP will have for designers, engineers and businesses around the world," Ramon Pastor, HP's interim president of 3D printing and digital manufacturing, said in a statement.
HP officials said the new material, developed for the company's Jet Fusion 5200 3D Series, would serve automotive, industrial, medical and consumer applications, particularly piping, containers and fluid systems.
The company is jointly developing applications for its polypropylene with companies including plastics engineering firm Extol, additive manufacturer GKN/Forecast 3D, adhesive maker Henkel and parts manufacturer Prototal.
HP also announced a strategic alliance with German engineering firm Oechsler, and an expansion of its partnership with BASF.