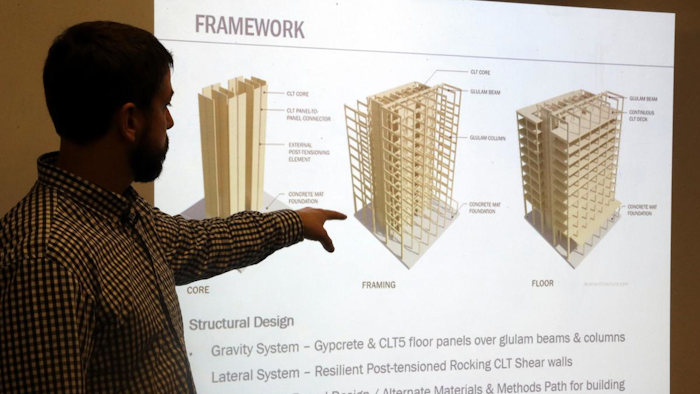 AP Photo/Don Ryan, File
A German climate research group says shifting the world's construction projects from steel and concrete to mostly wood materials would be a significant step toward achieving global climate goals laid out in 2015.

The analysis by the Potsdam Institute for Climate Impact Research said that not only would wood-based materials eliminate future emissions from concrete and steel production, but that the forests needed to supply those materials would help cancel out emissions from other sectors.

Analysts noted that the transition could prove particularly important as population growth and urbanization trends fuel construction around the globe.

"This risk for the global climate system could be transformed into a powerful means to mitigate climate change," lead author Galina Churkina, an environmental scientist at the Potsdam Institute and Yale University, said in a statement.

Currently, less than 1% of new buildings are built using timber, but the Potsdam report said that number could climb to 90% by 2050 if timber manufacturing increases and developing nations sufficiently embrace the change. Under the latter scenario, the timber needed for construction projects would store the equivalent of 700 million tons of carbon per year.

Analysts noted that construction could help balance the emissions of industries where similar reductions will be difficult, such as agriculture.

In addition, the report said timber construction would cut the total greenhouse gas emissions of steel and cement production by at least half. Concrete manufacturing alone currently accounts for 7% of the world's carbon emissions.

Researchers stressed that the forests harvested for a massive timber building boom would need to be sustainably managed, and that the wood would need to be preserved in some form once those buildings are demolished. The report also noted that after fire concerns helped spur more than a century of steel construction, today's large, structural timbers are actually relatively resistant to fire.

"There's no safer way of storing carbon I can think of," said Potsdam director emeritus Hans Joachim Schellnhuber.