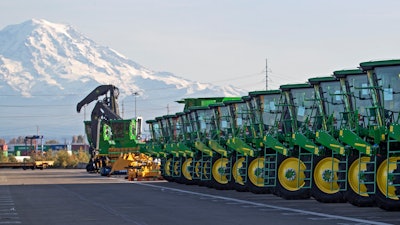 AP Photo/Ted S. Warren, File
MOLINE, Ill. (AP) — Deere & Co. is reporting an 8% drop in fourth quarter profit and issuing a weak outlook for next year.
The company on Wednesday cited uncertainty from trade wars and other issues that have led farmers to pull back on machinery purchases.
Quarterly profits were $722 million, or $2.27 per share. Adjusted per share earnings were $2.14, a penny better than expected, according to a survey by Zacks Investment Research.
Adjusted revenue was $8.7 billion, also better than expected.
But that's being overshadowed by Deere's first profit outlook for 2020 of between $2.7 billion and $3.1 billion, which would be less than this year.
For the year, the company reported profit of $3.25 billion, or $10.15 per share. Revenue was reported as $34.89 billion.
"John Deere's performance reflected continued uncertainties in the agricultural sector," said CEO John May. "Lingering trade tensions coupled with a year of difficult growing and harvesting conditions have caused many farmers to become cautious about making major investments in new equipment."
Many farmers in the Midwest and South whose planting this year was interrupted by wet weather got a break in the fall, though a few Northern states have seen harvest prospects go from bad to worse.
Early rain and snow in Minnesota and the Dakotas hampered an already difficult harvest.
Deere has focused on factors it can control and May said despite a tough environment right now, the longer-term outlook for dear is healthy.
"We are committed to the successful execution of our strategic plan and have initiated a series of measures to create a leaner organizational structure that can operate with more speed and agility," May said in a prepared statement.