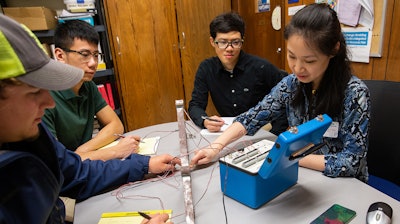 University of Wisconsin-Platteville/UW System Board of Regents
A Wisconsin university engineering lab hopes to use ultrasound technology to identify potentially faulty bridges before they become dangerous.

Hanwan Jiang, a civil engineering professor at the University of Wisconsin-Platteville, is leading a team of structural, mechanical, electrical and computer engineers to develop and test a more cost-effective way to analyze the hundreds of thousands of U.S. bridges already exceeding their life expectancy.

The technique, inspired by medical ultrasounds, can create an image showing internal cracks, defects or stress changes within a concrete structure. In addition to preventing unnecessary damage to existing bridges, Jiang said the technology is relatively inexpensive for budget-conscious states and local governments.

Most importantly, campus officials suggested the research could help prevent deadly bridge collapses, such as high-profile incidents in Minneapolis in 2007 and Miami in 2018.

"To reduce the failure risks and the repair cost of the large amount of bridges in our nation, it is essential to detect structural deficiencies at an early stage," Jiang said.

The UWP team, along with the University of Wisconsin System's technology transfer office, filed an international patent application for the system and is collaborating with industry partners to validate it.