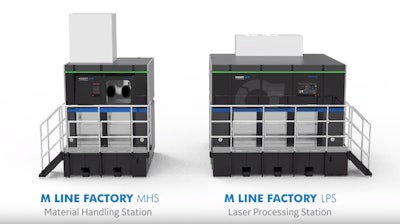 GE Additive (YouTube)
General Electric's 3D printing division this week announced plans to offer a new additive manufacturing system and a new aluminum alloy powder beginning next spring.

GE Additive said the first Concept Laser M LINE FACTORY systems are slated to be delivered to customers in the second quarter of the year, while aluminum alloy F357 powder would see deliveries begin in April.

The M LINE FACTORY, the company said, was overhauled following GE's acquisition of Concept Laser in late 2016. The system offers parts production and the set-up and dismantling process in independent units that can be operated separately or in tandem.

Officials said the modular architecture establishes the automation and reliability needed to deploy the system on an industrial scale.

"The positive impact the M LINE FACTORY can have on our customers' operations and their bottom line is huge," GE Additive President and CEO Jason Oliver said in a statement.

The division also announced that its AP&C subsidiary would begin producing the new powder at its expanded plant near Montreal in the first quarter of the new year.

The company said the alloy can be easily welded while offering strength, heat conductivity and corrosion resistance — which made it particularly appealing to the aerospace and automotive sectors.