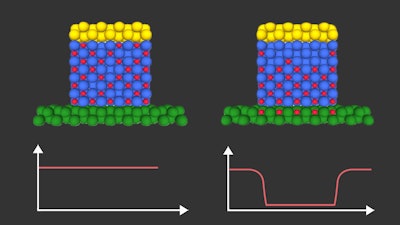 MIT News
Researchers from MIT and the Brookhaven National Laboratory suggest that tweaking the magnetism in microchips could eventually allow electronics to operate using significantly less power.

MIT engineers noted that numerous research efforts worldwide have focused on the "spin" property of electrons, rather than their charge, in recent years. Not only would "spintronic" devices curb the need for external power and generate less heat, but they could also enable more powerful chips as current, electrically charged semiconductors approach the physical limits of their capabilities.

After discovering that hydrogen from airborne water vapor was altering their experiments with magnetism, the MIT team used hydrogen ions, rather than the larger oxygen ions previously used, to alter the magnetism of a thin film material without degrading it.

Their study, published in the journal Nature Materials, describes how applying a small voltage to the material changed its magnetic orientation. More importantly, the material remained in its altered state — and could be switched back — without the need for additional power.

Although the research remains in its infancy, engineers said the ability to control magnetism with the flip of a switch could prove to be a breakthrough for mobile computing and sensor technology.

"It's not only interesting from the fundamental side, but it's also a potential game-changer for applications, where magnetic materials are used to store and process digital information," Chris Leighton, a University of Minnesota engineer who was not involved in the study, told MIT News.