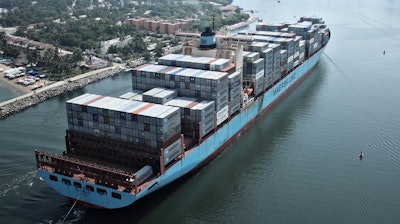 The Maersk Group
Denmark's A.P. Moller-Maersk, the world's biggest shipping group, said Friday that one its cargo vessels has successfully passed through the Russian Arctic on a one-off trial journey as a result of melting sea ice.
Palle Laursen, Maersk's chief technical officer, says "the trial allowed us to gain exceptional operational experience," adding the Venta Maersk and all systems aboard performed well in the unfamiliar environment.
Laursen said the ship, which had a cargo of frozen fish, arrived in St. Petersburg on Friday, after leaving Russia's Pacific port city of Vladivostok on Aug. 22.
The Northern Sea Route could be a shorter route for journeys from East Asia to Europe than the Northwest Passage over Canada because it will likely be free of ice sooner due to climate change.
Experts say it could reduce the travel distance from East Asia to Europe from the 21,000 kilometers (13,000 miles) it takes to go via the Suez Canal, to 12,800 kilometers (8,000 miles). That would cut transit time by 10-15 days.
It's not the first time a cargo vessel has completed the Russian Arctic route, and Maersk underlined that the journey was "to gain operational experience in a new area and to test vessel systems."
"Currently, we do not see the Northern Sea Route as a viable commercial alternative to existing east-west routes," Laursen said.
"Today, the passage is only feasible for around three months a year which may change with time. Furthermore, we also must consider that ice-classed vessels are required to make the passage, which means an additional investment."
During the 37-day journey, Maersk was "in close and regular dialogue" with Russian authorities and ice breaker companies as precautionary measures.
The company said the vessel which made the trip is among the world's largest ice-class ships specifically designed to operate in cold waters.