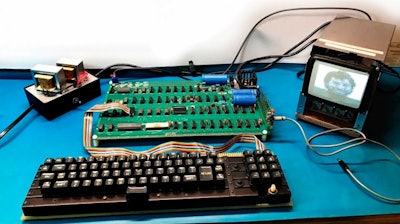 Sarina Carlo/RR Auctions via AP
A computer built in the 1970s that helped launch the personal computer age as well as a trillion-dollar company has sold for $375,000.
The fully functioning Apple-1 auctioned by Boston-based RR Auction was sold at a live sale Tuesday.
RR says the winning bid came from a U.S.-based businessman who wishes to remain anonymous.
The computer is one of 60 or so remaining of the original 200 designed and built by Steve Jobs and Steve Wozniak in 1976 and 1977, and one of 16 that still works.
It sold back then for less than $700. The original owner offered to sell it to Wozniak in 1982 for $10,000, an offer that went unanswered.
Cupertino, California-based Apple recently became the world's first publicly traded company to be valued at $1 trillion.