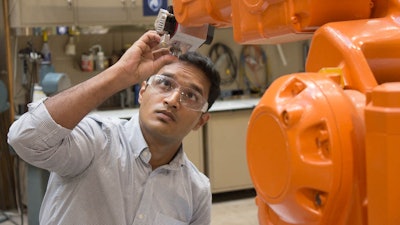 Erin Cassidy Hendrick/Penn State University
Penn State University this week announced the graduation of its first student in its 3D printing masters' program.

The Additive Manufacturing and Design program, established last year, offers one-year masters' degrees in science in additive manufacturing and design and master of engineering in additive manufacturing and design.

Rakshith Badarinath, a doctoral student in industrial and manufacturing engineering, is the first to receive the degree after developing a robotic testbed retrofitted with sensors to monitor the printing process.

"It's common for engineers to think in certain ways depending on their background and concentration," Badarinath said in a release. "But with this AMD degree, you're at the intersection of many disciplines and can get a comprehensive picture of the issues in the field."

Penn State officials said more than 60 students are enrolled in the program either on campus or remotely.