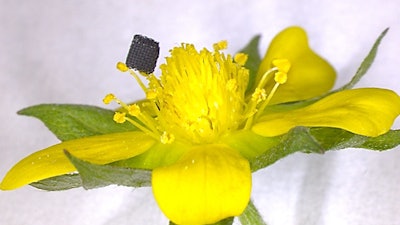 Virginia Tech
A new method to 3D print graphene could allow numerous industries to take greater advantage of the high-strength, conductive material.

Graphene, or a single layer of carbon atoms arranged in a lattice, is one of the strongest materials ever tested and features high thermal and electrical conductivity, but it generally loses its lucrative properties when layers are accumulated to form graphite.

Researchers from Virginia Tech and Lawrence Livermore National Laboratory noted that separating graphene layers with air-filled pores creates a three-dimensional graphene aerogel that largely retains its original strength and conductivity.

Previous processes, however, were only able to 3D-print graphene in two dimensions or in very basic shapes. Their study, published in the journal Materials Horizons, showcased how graphene could be printed in virtually any shape.

"It's a significant breakthrough compared to what's been done," said Virginia Tech Ph.D. student Ryan Hensleigh. "We can access pretty much any desired structure you want."

Engineers formed the material's precursor, graphene oxide, into a hydrogel and added light-sensitive polymers, then printed a solid 3D structure using a process called projection micro-stereolithography.

The resulting structure trapped the graphene oxide within the polymer. Researchers placed the shape in a furnace to burn off the polymers and fuse the object into a printed graphene aerogel at resolutions of as little as 10 microns — far finer than the 100 micron resolutions produced by other processes.

The option to 3D-print more complex graphene shapes, researchers said, could particularly appeal to the battery and aerospace industries, as well as be useful in sensors, catalysis, heat management, separation and other applications.