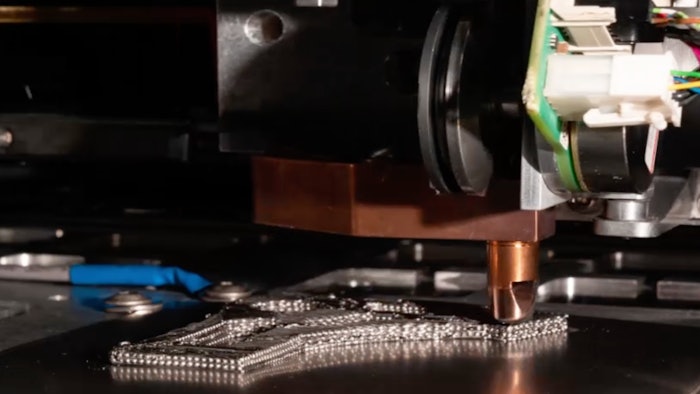 Digital Alloys
A Massachusetts company this week announced a pair of steps forward in its efforts to deploy 3D-printed metal technology at the scale needed for manufacturing operations.

Digital Alloys said it received two patents for its Joule Printing system and wrapped up a nearly $13 million fundraising round.

Company officials said its now-patented technology uses wire feedstock and high deposition rates to print otherwise difficult-to-produce metal parts more quickly and cost-effectively than alternative systems.

Duncan McCallum, the company's CEO, noted that despite the potential of additive manufacturing, it remains little-used in production due to long printing times and complex, impractical systems that can involve specialized hardware and software — to say nothing of furnaces, chemical baths or hazardous materials.

Digital Alloys, which spun out of the Massachusetts Institute of Technology-borne NVBOTS early last year, developed a system that precisely melts wire into shapes instead of relying on metal powders.

The use of joule heating — the same resistance heating used in electronics for more than a century — provides an efficient way to melt the wire and allows the system to continuously lay down beads of melted metal that fuse into formed components.

Officials said that because both melting and positioning occur simultaneously, manufacturers would be able to save time, lower costs and easily repeat the process.

"Melting occurs instantly, exactly at the desired location," McCallum wrote this week.

In addition, the ability to control the amount exact amount of energy and metal in the technique allows for dense parts that are stronger than conventional castings.

The company said the initial commercial applications of the technology include "conformally cooled tools" for the auto industry and consumer products segment, as well as titanium aerospace components.

Aerospace giant Boeing joined with welding products manufacturer Lincoln Electric and capital firms Khosla Ventures and G20 Ventures in Digital Alloys' recently completed $12.9 million Series B financing round.

Boeing HorizonX Ventures said emerging metal printing technologies will allow the company to accelerate product design and manufacturing — and transform its overall production systems.

"Our investment in Digital Alloys will further Boeing's ability to produce a higher volume of metal structural aerospace parts faster than ever before," said Brian Schettler, managing director of the company's investment arm.